Contact Us:
Please feel free to contact us via the form below, responses may take up to 24 business hours to respond.
Office Hours:
Doctors hours are by appointment only.
Monday: 8:30am-5:00pm
Tuesday: 8:30am-5:00pm
Wednesday: 8:30am-5:00pm
Thursday: 8:30am-5:00pm
Friday: 8:30am-5:00pm
Saturday and Sundays Closed
Surgeries and dentistries are scheduled for weekday mornings.
Phone:
Main: 763-574-9892
Fax: 763-574.0283
Directions to Skyline Veterinary Hospital
We are located one mile North of Highway 694 on the West frontage road of Highway 65 (which is the continuation of Central Avenue) From the South: From Highway 694, take the Central Ave/Fridley /Highway 65 exit and go North approximately one mile. The highway goes through Moore Lake. The first stoplight on the North side of the lake is West Moore Lake
Drive. Go left at this light and then make an immediate right onto the frontage road. Skyline is the 2nd
building, next to Miller's funeral home From the North: Go South on Highway 65, past Mississippi Street, which is the closest stoplight to Skyline. When you pass Mississippi , take the turn off for the frontage road on the right side. Continue Southbound on the frontage road, past an office complex Skyline is the next building.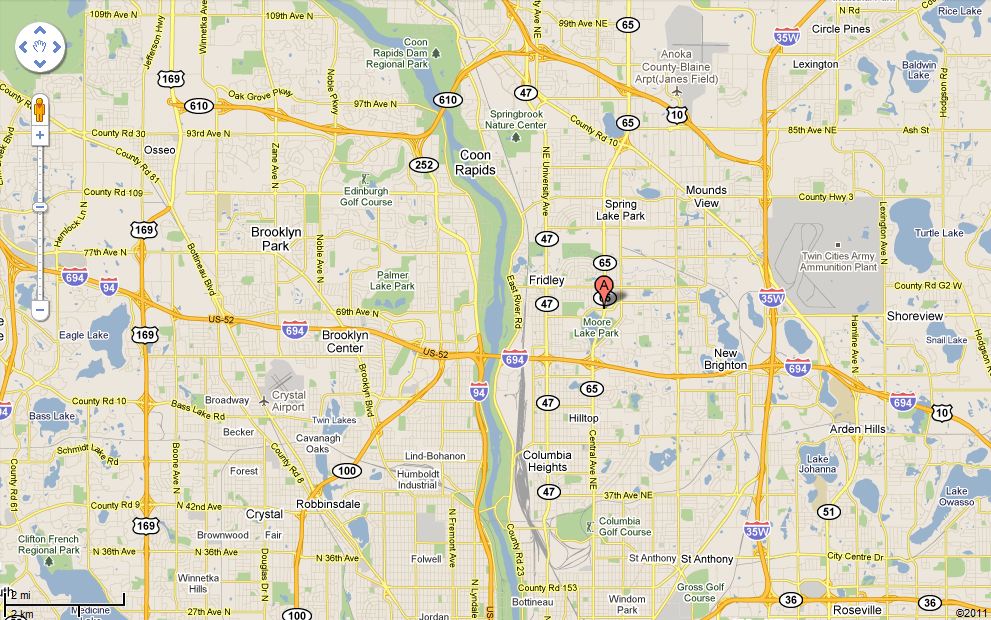 Payment Options:
Payment in full is required at the time of service/ exam or when your pet is discharged. We accept cash, Visa, MasterCard, Discover, American Express, and Care Credit. Sorry for any inconvenience, but we do not accept personal checks.